Hilary Jack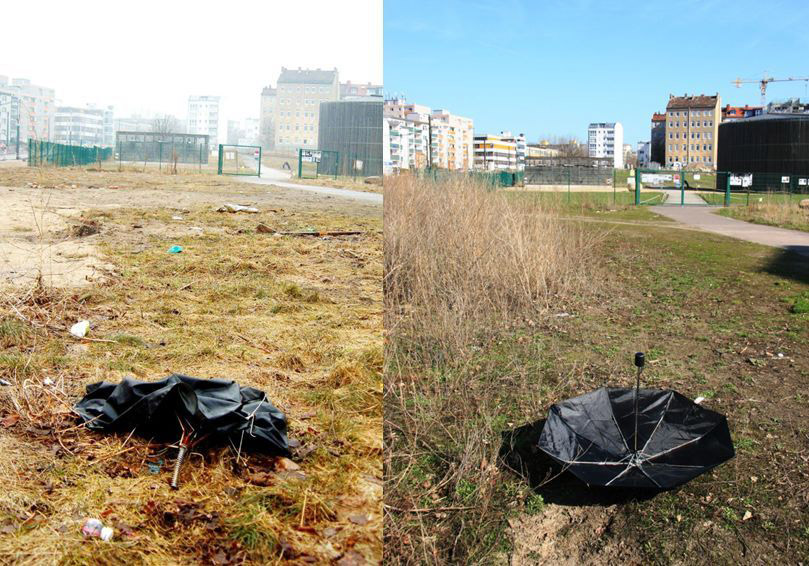 Hilary Jack works across media in research based projects which often involve the collection, and repair of broken and discarded material from city streets, charity shops and ebay. The objects she is drawn to are imbued with a strong sense of human presence and reference the increasingly accelerated journey objects take from production to consumption, obsolescence and decay.
Abandoned broken umbrellas collected from city streets after rainfall are repaired and returned to their original location; a torn page of a book found in the street is reconstructed; discarded broken furniture and trinkets are mended and brought together to form sculptural installations.
The work takes on a mildly activist edge, sometimes parodying ineffectual attempts by governments, organisations and individuals at societal and environmental improvements, and highlights the inadequacy of action in the face of mass consumption and global waste. With world economies in free fall, recycling policies in crisis and society being challenged to adopt a make do and mend approach the work has a particularly current resonance.
Hilary Jack has recently exhibited in "The Social Lives of Objects", at Castlefield Gallery, Manchester; in "Extreme Crafts" at the Centre for Contemporary Art, Vilnius, Lithuania; in "Meeting Point" at Axel Lapp Projects, Berlin, in "Conflux06", New York and in E8 at Transition Gallery London.
Hilary is a published writer having contributed articles and reviews to a number of publications and online magazines, most recently Axis, and a.n magazine.
Hilary also has a collaborative curatorial practice with artist Paul Harfleet having together co-founded Apartment in 2003 and co-curated Artranspennine08 a multi site exhibition of over forty artists across the Trans Pennine Way.